Printed using Epson prographics printers with archival pigments inks.
Paper options
Fine Art Matte (Staff Pick)
Most Popular Paper!
True Matte surface no reflections
Smooth paper finish
Acid Free
Photo Paper Luster
Semi-Gloss pro pebble finish.
Bold and vibrant colors.
Scratch resistant micro glass layer.
Traditional style photo paper.
Fine Art Rag
100% cotton rag for archivability.
True Matte velvet textured surface.
Luxury look and feel.
Highest grade archival print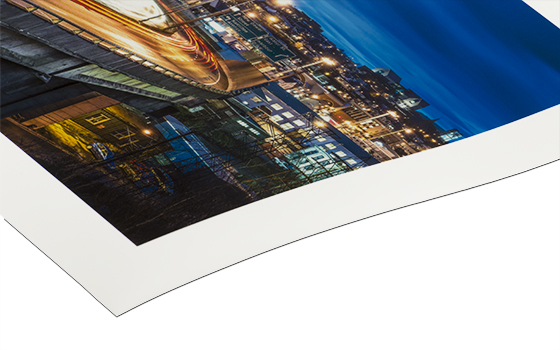 Photo Paper Metallic
High gloss surface.
Pearlescent metallic finish.
Added dimension and definition.
Extra pop and dimension
You will be notified by email when your order is ready for pickup or has shipped.
Paper print pricing
Prints include an 1" additional white border. (16x20 print on 18x22 paper)
see pricelist
Wide Format Prints
size
8x10
11x14
12x18
16x20
16x24
20x20
20x24
20x30
24x36
32x48
36x54
40x60
20x40
12x36
18x36
20x60
24x48
24x60
Fine Art Matte
Photo Lab
Photo Lab
Photo Lab
$22.60
$26.12
$27.00
$31.40
$38.00
$52.52
$89.48
$111.92
$137.00
$49.00
$28.76
$40.64
$71.00
$68.36
$84.20
Photo Paper Lustre
Photo Lab
Photo Lab
Photo Lab
$26.20
$30.04
$31.00
$35.80
$43.00
$58.54
$99.16
$123.64
$151.00
$55.00
$32.92
$45.88
$79.00
$76.12
$93.40
Fine Art Rag
$16.40
$22.32
$27.28
$35.60
$40.72
$42.00
$48.40
$58.00
$79.12
$132.88
$165.52
$202.00
$74.00
$44.56
$61.84
$106.00
$102.16
$125.20
Photo Paper Metallic
$16.40
$22.32
$27.28
$35.60
$40.72
$42.00
$48.40
$58.00
$79.12
$132.88
$165.52
$202.00
$74.00
$44.56
$61.84
$106.00
$102.16
$125.20
Custom Sizes Available